MARIO GARCIA: THE MOST SOUGHT-AFTER MEDIA DESIGNER ON THE PLANET
Mario Garcia's life has film-like shades. From being one of the Peter Pans fleeing the Cuban Revolution to becoming the most sought-after Media designer on the planet. He has achieved what most earthlings can only dream of. His clients? Brace yourself: The Wall Street Journal, The Washington Post, Paris Match, The United Nations, Walmart, Die Zeit, and the dazzling list of top-league players goes on forever. Most of us would be thrilled at having just one of them in our portfolio and he has them all. The secret? A cliché answer would be his talent, which he undeniably has in megadoses, but perhaps the key is more arcane: his profound ties to the present with a chip embedded in his brain that makes him visualize a stunning future and a compulsion to constantly keep reinventing himself.
A professor at the most prestigious journalism school in the world, Columbia University, a writer of 14 books with one about to come out, The Story, designed to be read only on phones, advisor to world-class newspapers, magazines, corporations, and international agencies spread throughout the globe, from the US to China, well, you can find all this information on Wikipedia or on thousands of sites..... and, paradoxically, his main achievement is very likely far from a professional one, it is the impact he makes on people after being exposed to him. The takeaway is: do something, handcraft your own life, and if you don't like your present one, change the lay-out, redesign it, rewrite it, re-edit it, but move forward, be mobile, don't put it on autopilot, life is too exciting.
But life is also madly recurrent and we can say that after this man's unbelievable journey, he is still a Peter Pan, OK, granted, from a whole different angle, and in a whole different universe, and with a whole different meaning.
Caveat: If you end up with an adrenaline rush after listening to this interview, relax, normal symptoms.
NOTE: Audio above. It takes a couple of seconds to begin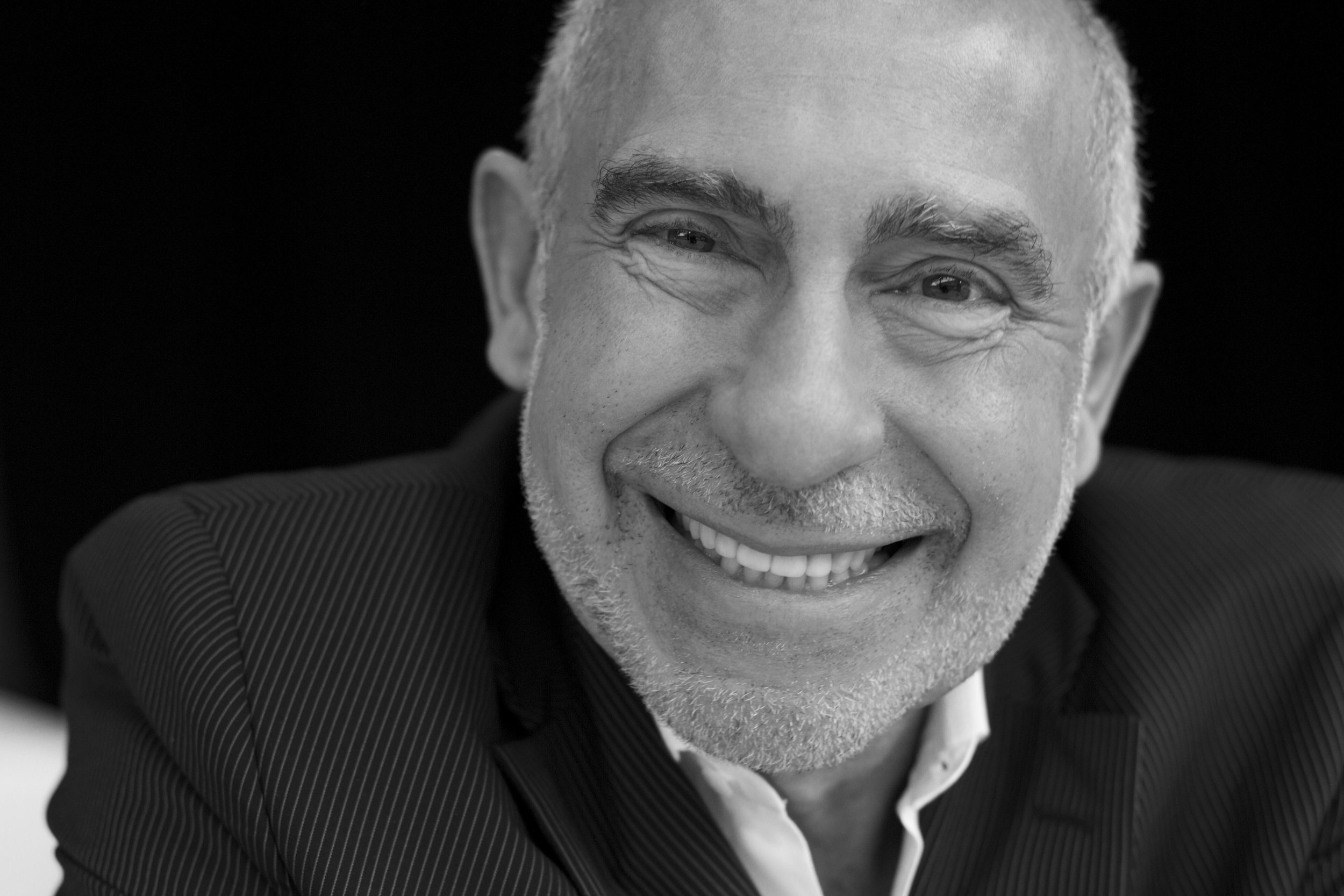 Senior Adviser for News Design
Adjunct Professor at Columbia University Graduate School of Journalism
700 projects in 120 countries:The Wall Street Journal, The Washington Post, Paris Match, among others
CEO/ Founder of Garcia Media
Founder of the Graphics & Design program at The Poynter Institute for Media Studies
Author of 14 books, among which, the latest one iPad Design Lab and the upcoming The Story
People Magazine selected him among the 100 Most Influential Hispanics
Lifetime Achievement Award
Medal of Honor in Journalism - University of Missouri
Thank you for setting this time aside and talk to us. The first question that comes to my mind is: how did it all begin? How did you manage to get this far? How did you manage to see what was coming when no one else could or did?
Well, you know I began my career very early. In 1967, when I was 19 years old, I was living in Miami. I came from Cuba to Miami when I was a child so I grew up in Miami and my first internship in a newspaper was with the Miami News and the Miami Herald, they were both in the same building. One was a morning paper, one in the afternoon. So I began as a reporter, but very soon after that I realized that I enjoyed the visual aspects of journalism more than the actual reporting so I would observe everything the lay-out people did on a daily basis. I would come back from my reporting assignments and would look at how they laid out the pages. That's how I started my career and then .... keeping my ear to the ground, I began to design newspapers, I became quite obsessed with the whole idea of visual journalism. My first real discovery of it happened to be with color. I knew it was going to come to newspapers. They were all in black and white in the late 1960s, but I knew color was coming. Printing presses were beginning to arrive. So, where would you go to study color? Since color did not exist in newspapers, you didn't have books about color in newspapers. So I went to color in decoration, color in architecture, color in the movies, and that's how I first began to research color and colorize many newspapers including the Wall Street Journal. After that, newspapers all over the world. I think that even today you have to have the ability to not just live in the present, but push yourself to the future, and I think that's what I did. That's what I do.
That's exactly what I was going to ask you, how do you visualize trends? How do things come to your mind? Because to innovate is not easy, I mean, you must be updated, you must pay a lot of attention to your surroundings... What's your lifestyle? How do you approach to what may be useful to many professionals in different fields.
Well, you know, I am very aware of what surrounds me. I have always been very aware of everything that surrounds me. I am a runner. And for many years I have been a runner, I have run many marathons and I observe. You go around and you even observe what people put in trashcans! When I am redesigning a newspaper…through the years ... if I am redesigning a newspaper in Scandinavia, I am aware of the colors, so if you are going to colorize a newspaper in Scandinavia, the colors are going to be very mutic colors because you don't see any single curtain in Norway or Denmark in any color other than white. If you're redesigning a newspaper in Brazil, and you go running around Sao Paulo, you will see curtains in pink, in yellow so you observe the culture around you, your surroundings, but in terms of trends, for example, …. right now I am writing a book titled The Story, which is about mobile storytelling, how to write stories on mobile devices like the phone, the book will probably be the first book published that is totally conceptualized to be consumed on the phone. And for the last two and a half years, I have studied the phone that you hold in your hand like scientists may, you know, study a mouse in the laboratory. I sometimes get in the subway and go from one end on the Upper East Side where I live in New York to Staten Island with no destination, just to see people using their phones on the subway. Well, I have done that religiously for two years. I observe how the eyes move, the attention spans, the interruptions, how they are reading a story and suddenly they are talking on the phone, and then they stop talking and they take a selfie, and then they go back to reading the story. As a result of that, my book is very much based on how we write, edit, design, create content for people whose attention span is short and multitasking because, you know, when you were reading a story in a newspaper in print or a magazine in the past, you sat down with your coffee and you read; there was very little interrupting. When you are doing this now, this phone is also providing you with music, with Facebook messages, Instagram, emails, and so you are multitasking while you are reading, so I call that journalism of interruptions, and that's a trend.
Mario Garcia's iPad Design Lab is his first digital publication. An engrossing book enjoyed by digital professionals and lay users alike that shows you how an iPad Media edition should be like and teaches you masterfully how to get there.
Let's go to the Media. The Media as a whole, and the print media specifically, are in the middle of a crisis, facing unprecedented changes, what role do newspapers and magazines play when a big share of the population, at least the younger people, seem to think that Twitter is the platform to catch up on news and do not need to go any deeper. What role does a morning paper play at a time when people demand - and the Media provides - constant, permanent updates?
I think that is the reason that I've titled my book The Story because it's all about the content they put in there. Twitter will give you things in 140 characters, a little bit more, Instagram will be a nice photo, but I think the newspapers are doing the best, The New York Times, The Washington Post, The Guardian, for example, in Argentina La Nación. These are newspapers that offer in-depth journalism, number one. Number two, they offer the essentials that people need to survive, the entertainment guide - what to do this weekend. I know a lot of this information is available elsewhere, but I always remind people that journalists are trained to do this best. A lot of my contemporaries - I am 72 years old - are retired already, or the contemporaries who worked with me, they retired or they died, you know, or they are not adapting and so the idea is that they are lamenting that now everybody with a phone is a journalist, a videographer, photographer, which is true. If you are standing somewhere and there is a train crash in front of you, you're going to make a video of this and, maybe, send it to a newspaper or magazine, but that's all you know how to do. Basically, when you put this somewhere, you'll whet the appetite of the people to want to hear more about that story, and how are they going to do this? They are coming to a newspaper, or a television station, a magazine, somewhere to get the information that the journalist will provide. So these are like little tapas to get your appetite going, but they are not the full paella, nobody who makes a 25-second video of a train crash on the street is going to be able to take it beyond that. The journalists do. So I think that's the main difference to answer your question, that the Media houses have the expertise to provide in-depth stories.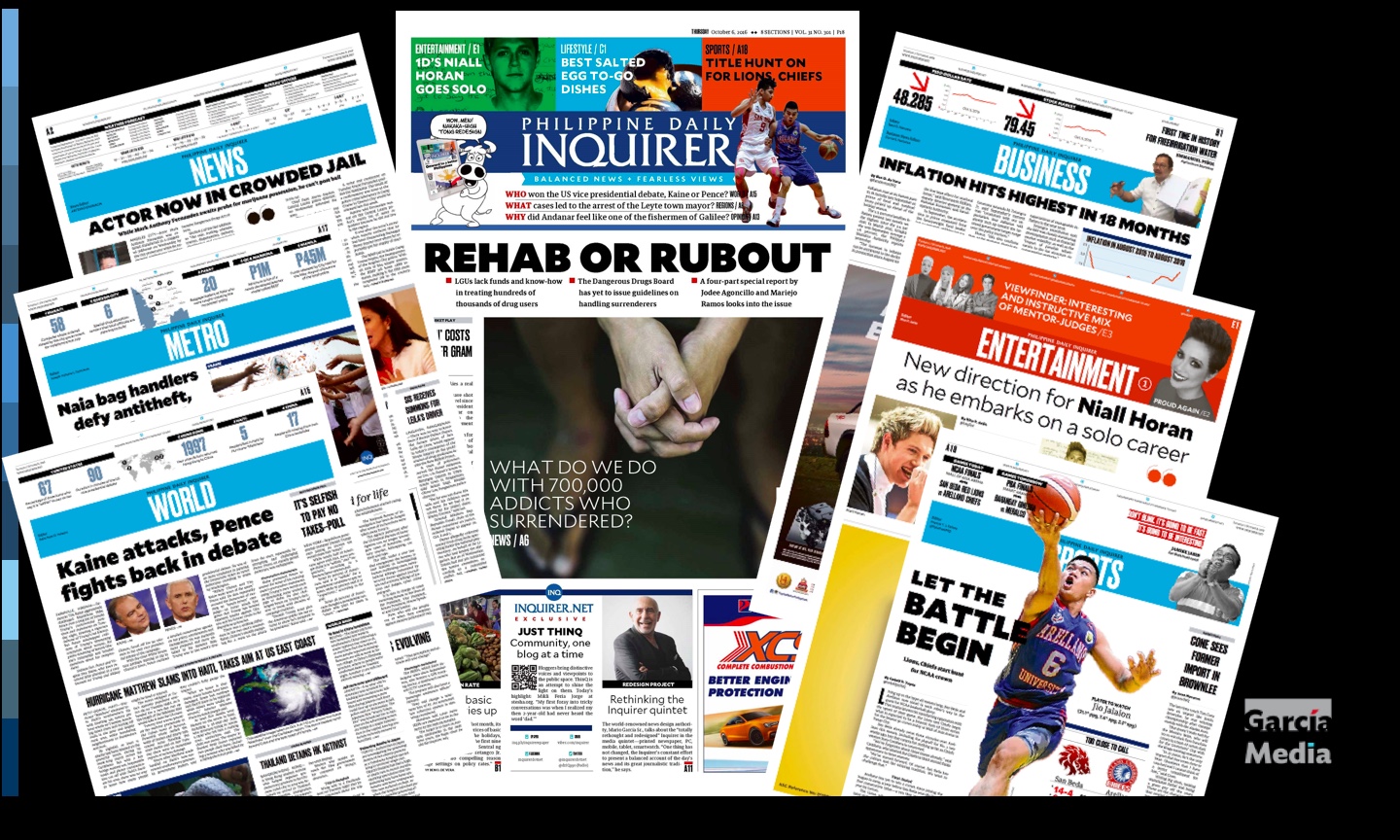 And we have another problem now that is the famous fake news. If you don't have the ability to tell the difference, you can swallow whatever. So, that is a huge problem.
That is a big problem, yes. Fake news is affecting everything. I teach my students at Columbia University, who are getting their Master's in journalism ..... they are concerned that the whole profession of journalism suffers because fake news is out of control so you have to verify your sources more, I tell them. So instead of verifying two times, verify three times to make sure that what you have is legitimate. But it is a challenge.
Well, they are supposed to control elections too, the latest thing, and the most dangerous. Mario, newspapers are looking for different alternatives to survive. As a user, what I can see is an online version with a given number of pieces of news for free. Then you have the paywall version, which not every newspaper is adopting, for example The Guardian, the British newspaper, opted not to adopt it and they are asking - Wikipedia-like - for donations, and then you have something very strange that is a way of drawing people, a replica of the print newspaper, but in the online version, you can turn pages..., which feels something strange nowadays.....
Absolutely.
So, how do newspapers finance themselves right now? To many people this is a mystery.
Well, the main source continues to be advertising, of course, but advertising has been dropping because now they get advertised in many other places. Believe it or not print is still where the money comes from in advertising because the advertisers are traditional. If you are Walmart or if you are McDonald's, you would like to give coupons that people can cut and come to the store and so on, but all of that is changing. I would say that the paywalls is basically the system that is beginning to readily gain a lot of momentum, but at the same time people will only pay for stories they cannot get anyplace else, so nobody will pay for international news, nobody will pay for the results of sports because everybody has that for free. So, newspapers have realized that there are two or three areas where they can get people to pay for, and the main area is local news because if you live in a small town, let's say you are in Argentina and you live in Tucuman, La Gazeta is going to have the most local news about Tucuman, so you're more likely to pay La Gaceta for local news because you are not going to get every little access, every minor sport in a school, whatever, in any other place except with a local newspaper. So local is very important. Second, in-depth stories. People are willing to pay for good journalism, believe it or not. And, so, newspapers are now investing more in in-depth. And the third area is service journalism, it is how you help me survive, how you help me find a job, how you help me with my children in school. So these are the three areas that most of the research tells you people will pay for.
They still pay for quality to a certain extent.
Absolutely.
Now, everything seems to go mobile. People prefer reading on the subway, reading at lunchtime at the restaurant before going back to the office, and do you think that newspapers as a whole are adapting to that? This is a change that is cutting through newspapers and also your students, journalists. Do you think that people are open to the change or are the still reluctant?
Well, the students are very open to the change. And I have to tell you that this is my sixth year at Columbia and for the first time not a single student when I say raise your hands if you are reading news in print - not a single student and these are Master's students getting a degree in journalism at the oldest journalism schools in the world, and they are extremely smart, well informed, they are 22 years old, but they don't get their information from print. Having said that, I work with different newsrooms, every week of my life, I walk into a newsroom, and I would say that 65% of the news people of newspapers in the globe still come to the newsroom to prepare an edition for tomorrow's newspaper in print, and yet 80% of the people are reading it on the phone. And you can imagine if you had a bakery and you were making a special kind of bread every day on which you put your emphasis, but most of the people were buying your little donuts that were not putting a lot of emphasis on… That really gives you a sense of what is happening. That's why I created my book in a way I refuse to have a print edition of it because it should not be read in print. I had to deal with the publisher on this. This book should only be read on the phone because part of the message, and the mission, of the book is that we read totally differently on mobile and I am going to explain this to you When you are reading in print, you have a product that is fantastic, a newspaper or a magazine are fantastic products, they have a beginning, a middle, and an end, if it is 64 pages, you go from page 1 to 64 and you get all that you want to know, and then you get a nap or you go to work. On a mobile, the interruptions are many and people read in little tidbits. The average millennial comes to the phone 114 times a day, that's the millennials. The people in their 50s and 60s come to the phone 85, 90 times a day for different things: to navigate, to get directions, to find a restaurant, to check books, emails, so you have the phone as a constant companion. What a great opportunity for these Media houses to have their brands in front of the people. Because if you are producing a newspaper, in the traditional way - whether it's La Nación in Buenos Aires or The Guardian in London - that paper comes out once a day. You expose your brand to the people, to the customers one time a day. Now if you play your cards right, you have great updates and so on, your brand could be up there hundreds of times a day. One day of mobile is a hundred days of print. This is what I talk about in my book. This is what many editors have not yet realized. That's why my book has three main center pieces. The first is transformation, the ability to open your mind to change, which is not just in the newspaper industry, but in any industry. Change is happening rapidly and you have to be aware of it and it has nothing to do with age. I repeat, I'm 72 years old, I've been in this business 46 years, but I do not lament what was, I always celebrate what is. I did it when color came into newspapers, I did it when the Internet came, I mean, I think that I am proud to be a journalist, to be a story-teller, now we have more tools to tell the stories, so why should I be crying?
Why do you think that people in newspapers are so reluctant where there is evidence galore that readers, specifically the younger readers, are looking for something new?
Well, journalists always like to write about change, but they are the last to join it. There were computers in universities and hospitals long before newspapers had computers, they were dragged into this. So I think there are several elements. The fear of change whether you are in a bank, in a hospital, whether you´re a doctor, a veterinarian.... change is always something that gives people fear. You have to retrain yourself. And then one of the important things I mentioned in a segment in my book called The Revolutions. I have lived through four major revolutions in the industry in my 46 years in this business, but no revolution was ever as big as this because when you changed from black and white to color, color did not affect journalism, you affected the way it looked. But now you affect the way journalism works, you have to write differently, you cannot write, edit, and design the way you did. The way we consume news on mobile is the opposite, sometimes, of how we do it in print. And so, it´s a lot of learning.... a lot of what you know and have done for 30 years doesn´t work anymore. That is the kind of things that scares people.
On the one hand some newspapers in Buenos Aires, for example La Nación, are trying to make a change, but I would say that very shyly, basically the newspaper you see in print is the newspaper you see online. No big difference. They are using one optimized Siri because they know people stop reading halfway through it. Now, if you were to have the first conversation with a client of yours, who is looking for a change, what are the first pieces of advice you would give him?
Well, I do this all the time, Jorge, and let me tell you how I do it. I sit down and I say to him that this newspaper doesn´t exist and that we are here to create La Nación in 2019. We are gathered here in Buenos Aires to create the leading newspaper of Argentina, but it is 2019. That means that you get the elephant out of the room immediately. Legacy, you know. And so that´s how I do it. Then you see that people open up, and if what you´re trying to do is rethink what you had, you will spend days spinning your wheels. If you start with a clean page and you say ¨let´s concentrate on creating a new product¨ and normally in the first ten minutes somebody will say ¨we were in Buenos Aires trying to create a new leading newspaper for Argentina, it won´t have a print edition¨ Bingo! Now we start talking, Ok, so that's how I do it.
I have seen you on YouTube giving talks and interviews and you highlight the fact that the format is very important, essential, but anyway it does not replace content. The content is very important. Can you explain this a bit further?
Yeah, I think the reason I have titled this book The Story is because the only constant in the 46 years I have been in journalism is that if you have a good story that is going to have consequence and impact on the people, they will read it in small type, in big type, on the phone, in print, with color background, with no color. The ultimate test on legibility is good content. And I think that the format is very secondary if you have a good story.
What are the newspapers, in your opinion and in your experience, that are adapting the best to all these changes? They may be international, for example, some newspaper in the States, El País from Spain, or Die Zeit from Germany. What are the ones that you think are coming closer to an ideal?
Well, we have two that really are doing the best, they're big newspapers, the New York Times and the Washington Post. They're doing it like a textbook. However if you want the real innovators, you have to go to Scandinavia. My client in Norway, Aftenposten, which is the leading newspaper of Norway, is ahead of the pack in how they revolutionized the newsroom, changed its strategy for how the stories flow, and they're very mobile without, at the same time, killing the print. You don't have to kill the print. You just have to realize that print is not the protagonist, but it's still important. We have what I call the Media quintet: we have headlines on the watch, we have the phone, we have the tablet, print, and online, and these five have to coexist with each other.
Do you think deep down, sincerely, that the print will eventually die? Is a manifest fate?
No, I'm a firm believer that the print edition will die in many places Monday through Friday, but I think the weekend we will have print editions because people will want to disconnect, I mean, if you spend all week connected to a phone that is ringing, that is sending you messages from Facebook, from Instagram, then you want to lie down and read, and I think some experts call this the "luxury of paper", which is the luxury of not being connected to anything. I lie down on my sofa, I sit under the tree, in the park, I sit by the beach, and I am just going to enjoy my newspaper. I am one of those who believe that print newspaper will always be around. You have to realize that no medium kills another medium. When newspapers first came out, they were going to kill books. Who would read a book now that we have newspapers? Well, it didn't happen. Then radio came around and "Oh, who will want to read a newspaper now that we have radio?", television would kill newspapers, radio, books. They are still around. The idea is that what you have is more competition for all of that, but I think it is that in some countries, when I worked in India, in some parts of Latin America, in Asia, I realized that newspapers in print are read by a number of people so I say that it won't be 25 years before these newspapers even cancel Monday to Friday. In some parts of the world this is already happening. There are cities in the US where you only have a newspaper three times a week. You have it Wednesday, Friday, and Sunday. There is no newspaper in between because they have online editions of the newspaper. So, it is a transition. But if you ask me today if print is going to die, the answer is "No", but it's going to have to be rethought and it's going to have a different role, not as the king, not as the main event.
What do you think of the new platforms which bet a lot on the visual aspect, for example like Flipboard or now Apple News? There seems to be no newsfeed standards, in my opinion. What do you think?
I think that these have a tough time converting readers. At the beginning, a lot of people come there and then there is nothing to retain them. And I think that even though the presentation is quite nice, that proves my point that design alone will no guarantee that people will follow you. I think that an ugly app or an ugly presentation with good content will last forever, but a pretty one that doesn't have the ability to retain you with content is not. So I think that some of these like Apple News, Flipboard, visually are very attractive, but people don't make a habit of staying with them for whatever reason.
Going back to this point, what should the ideal iPad version be? If you had to design from scratch an iPad version of a newspaper, or of a magazine, what would it be like?
The iPad is fantastic for all kinds of things to do and the only thing that newspapers can use the iPad well for is when they put their PDFs or their printed versions for people to flip through them. I think that the iPad..... I wrote a book, my last digital book was Storytelling in the Age of the iPad, but I would tell you... when I was talking to my students last Monday about the iPad, not a single person in that class had one and I felt I could have been discussing the tablets of Mesopotamia because it was like a historical artifact. So if a newspaper asked me to do an iPad edition, I would say ¨Thank you¨. However, there is one that has been very successful in Montreal, Canada, La Presse+, they even did away with their printed newspaper that was 130 years old and for the last year it's really been given away for free, you should take a look at it, but the advertising is very innovative and it lives as a tablet, but when other newspapers in Canada, including one of my clients, Postmedia, or Toronto's the Global and Mail, all of their tablet editions died within two or three years, all the magazines that had tablet editions, dead. Somehow the tablet is still popular, there will be new versions of the tablet, but for all kinds of things, you see the flight attendants taking orders from the tablet, in the restaurantes you have menus around the tablet, the tablet has a great deal of use and for reading books, a lot of people read on the iPad or on their Kindles, but journalistically, if a client would tell me "do an iPad edition", i'd say "no, you should put that effort into a mobile version". I am doing a very exciting project in Germany, in fact, I am leaving for there tomorrow, which is the first weekend newspaper entirely done for the phone. How about that? In Germany, in Hamburg, Germany. So we're creating this newspaper that will be a weekend product to be consumed on the phone. So, that's where the action is, to be honest with you. So this Sunday as of today, if you asked me, the action is mobile only because that's a constant companion. There is no question about it. We wake up and go to sleep with the phone.
What is a newspaper like on a cell phone? I know it is difficult but can you give us give us 3 or four ideas?
Well, you have to deal with the user experience first, that is very easy for me to go from one place to the other. The second thing you have to realize is the space, it's a very limited space. So, what happens? If you look at the first page of La Nación today, it's a broadsheet today (Sunday) so it's a very large newspaper, a large page, for 32 or 33 seconds you're going to sample several stories, maybe there are 9 headlines in there. Two or three photos. You don't have that luxury here. So on that first screen, you have to really seduce me. In the first screen, the reader is going to have 4 or 5 seconds looking at it before they thumb up and they go someplace else. So the process of seducing the reader is more difficult here, and the headlines have to be more descriptive. For example, if I open a page of La Nación or The New York Times and there is a story with 5 maps of how Syria has been divided, well, I see 5 maps, on the phone, I don't see any maps. The headline has to tell me, specifically, there are 5 maps that show how Syria has been divided because otherwise I don't know. So, it's a very challenging strategy for editors. Suddenly you are not painting on the ceiling of the Sixtine Chapel like Michelangelo did; they have given you the ceiling of a small room for you to paint it.
This is a challenge, now that you are undertaking such a job, you live it as a challenge, technically, right?

Yeah, it is a challenge ... The second tip is one idea per screen. That is the key, one photo, one headline, and then you see the next one. This is what many don't do. They try to recreate the page of a magazine in a small screen, so you will see some of these screens with 5 little photos the size of stamps from the post office and so nobody can see anything. Put one photo where I can see something. I write about this in the book Focus, Focus, Focus. Focus is very important.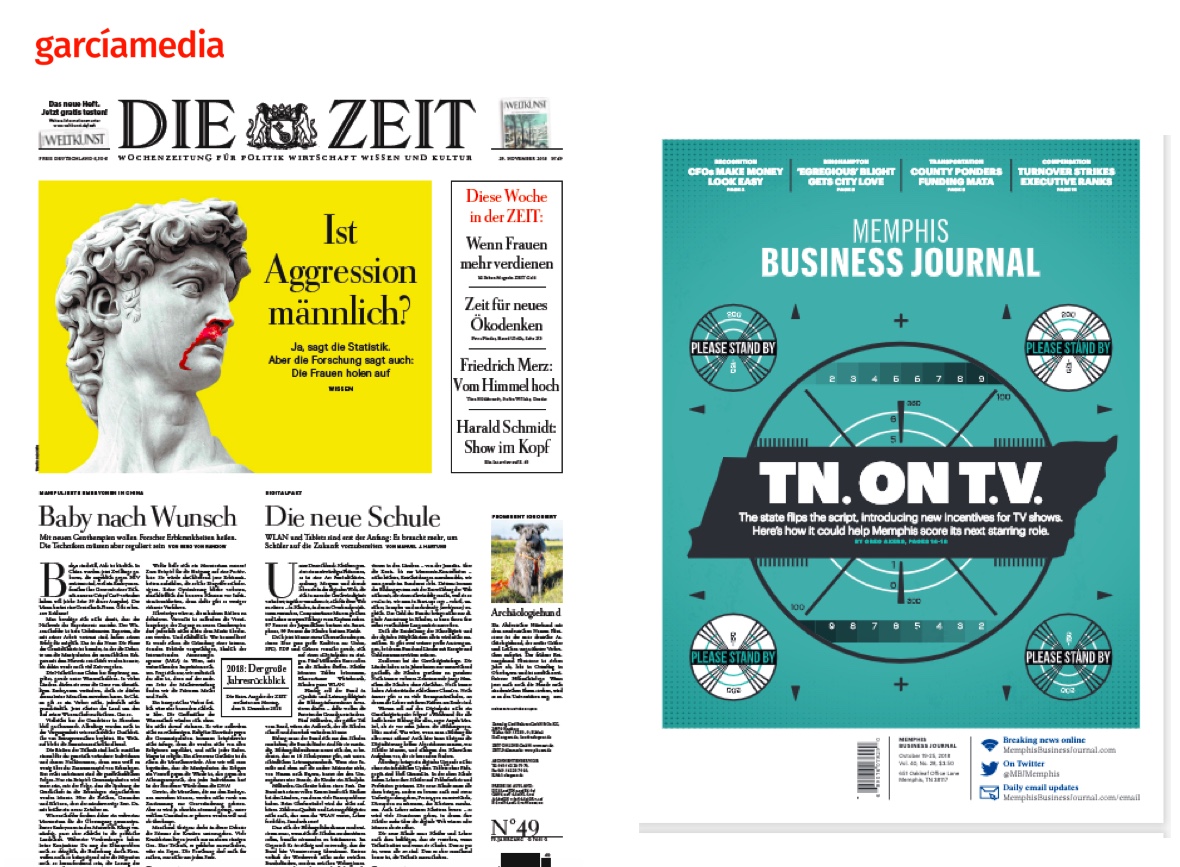 Many people complain that education is in a crisis too, for example many careers, traditional ones, are stuck to the past. You are lecturing at one of the top universities in journalism, Columbia, what do you think of the training there? And what do you think of the training as a whole at different universities? Is journalism the way of training journalists?
Not fast enough, I mean, we do it at Columbia. I introduced my course there 6 years ago, my course is titled Multiplatform Design & Storytelling and by time this term is finished they will have a portfolio thesis of how they write, edit for mobile. It's not just writing the story. I call this technique the Slicing of the Melon. Every editor looks at the big melon; we all know what a melon looks like, and a melon as a complete thing is big. But you have to slice the melon. In the mobile world, you give slices of the story. Before the story even begins, you might have already placed on Instagram that this story is going to happen. You slice the melon through social Media promotion. My students are not only writing the story, but they are giving me how this story is going to be promoted on Twitter, on LinkedIn, on Instagram and then after the story is published, how you'll promote it. The reporter is not only a reporter, he has to become a marketeer as well. You have to sell. And the other thing that is very new for journalists is that now we have data, we have data that tells you how many people read your story, I mean, that is accountability, that is new. Journalists in the past…. they would write a story, they would go home, the next day they were very proud because they liked it, their mother liked it, their wife liked it, now all of these people may have liked it, but you will have data in front of you that will say only 6% of the people read your story as opposed to 40%, 50%, or 60%. So this is why the transformation is so big, the role of the journalist, you'll have not only to write a story, but know the audience you are writing for on different platforms, in the big newspapers, the story that goes in mobile has been rewritten for print because in mobile we write in a linear way, the way you write for mobile is like we would communicate on WhatsApp, you write and you show. If you are communicating with someone on WhatsApp and you say I am here in the middle of Buenos Aires, look at this beautiful avenue, the widest avenue in the world, picture! Then we continue. We don't write, write, write and then show pictures that is the way print is. So there you have one of the big opposites. I mean, we could be talking for 3 hours about this. It's a fascinating topic.
Mario García does what he preaches and compulsively never stops reinventing himself. Times keep changing and so does he. This time through The Story to be read solely on mobile devices. No print edition. He explains why: "This is a book written entirely on a mobile device, for mobile readers, about mobile storytelling strategies—there is no need for print". PRE-ODER HERE
It's a whole new mindset. It's a paradigm shift. The last two questions. One objectively and one about you. There is a huge debate, and many surveys, and many people who have been on television for a long time who say that television is diminishing its appeal. Do you think that, in the long run, it is doomed to die or will it survive?
Well, I repeat, no medium will die because of the other, right?, but I will tell you this: television news, which is what I may know most about, is going the same way of print, why? Because television news goes by editions: there is a 12 o' clock news, there's a 6 o'clock news, there's the 10 o'clock news. Well, that was good for the 60s and the 70s, and maybe the 80s. Right now, it's the same problem as print: we chase stories, we don't chase editions. How many people wait for the 10 o'clock news before they go to bed? No, you have your phone in your hand. Today is an example, I am writing my book, I am very busy with that, so have not turned on the TV, I have my copy of the New York Times folded and I have not seen it yet, but yet I know everything that is happening from the moment I woke up, I already have 3 alerts on my phone telling me about a plane crash in Ethiopia, and then this and that. So the news follows you, whether you want to or not. Today I wanted to be news-free to be able to write my book, well, I am not, and I haven't turned on a radio or a television or opened a newspaper. By just having the phone in my hand, I already know about 7 or 8 stories, what is happening in New York, what is happening in the world, the plan crash, from all of these sources, so that's part of the big transformation. The news follows us, we don't have to follow it ourselves.
One last question, Mario, what about your plans? You must be the kind of person who always has something in mind. You can't stop. You have a book coming out, right, when is it coming out?
This book will come out around July of 2019, it's a digital book. It already came pre-order, I will be able to provide you with the link through Apple. It's going to be an iBook. It will be available in Amazon, in Kindle and it's called The Story. So you can pre-order already. I am also working with a variety of clients. Because of mobile, 45% of the people that I work with are not newspaper or magazine people, they are corporations. I work with Walmart, with JetBlue Airlines, with the United Nations, because they have to provide information around the world so they have to train their communications people how to do it on mobile, so right now this is the busiest I have been since I was putting color in newspapers in 1992, how to match the revolutions. So it's a very busy time, but it's exciting because it's something that is new and different and transformational and I like to be part of that transformation.
Two questions in one: what do you see that is coming and also what would you like the Media to become?
I think that what is definitely coming is augmented reality where you will be able to tell stories wherever you put your camera. That's beginning to happen quite quickly followed, at a slower pace, by virtual reality. So I think this will be the next frontier of storytelling: augmented reality and virtual reality. Where I would like the Media to go is to really make an effort to differentiate between the platforms and then create teams that are trained to really do things for mobile that are expressly for mobile and things for print that are well done for print, do things for online, even for computer - we did not talk about that in the interview - I mean when you are reading on a desktop, you have a much larger canvas. When you look at the home page of La Nación, you're looking at 5 or 6 stories. When you're looking at a page of a paper, you are seeing nine. But there are already 3 different platforms: the online edition that people might read on the computer - for the New York Times 68% of the people who read their online edition, do it on a phone, not on a computer. But I would like the Media house to come to the realization that the best thing they have for them - I tell that to my clients - is their brand. If you are La Nación of Argentina, you have a brand that is known by everybody, even if they don't read you. You come to a 22-year old taxi driver in Buenos Aires, I have when I've been there, and he says: Oh, yeah, La Nación is an institution. My grandfather read it. My father may have read it. How can you get that 22-year-old to read you? That's the challenge. Many of them do not realize that the legacy of that brand is something many would like to have, the brand that a newspaper is. All of these newspapers have been in these places for years and years. In Argentina, I have done like 13 newspapers, from La Nueva Provincia, which is the first newspaper I did outside of my country, the US, in Argentina, that's why I have a special connection with Argentina. I went to Bahia Blanca, that was in the 1970's to work with that newspaper and then a second time when it converted to a tabloid, all the way to Los Andes, all the way to Tucuman, all of these newspapers are brands in those towns. In Mendoza, Los Andes is an institution. In Tucuman, La Gaceta is an institution. And in the US is the same. My first newspaper here was a daily news in Minnesota....institutions. And the beautiful thing is that these newspapers are still there. The brand is still there. The editors are too concerned with the revolution of the moment to appreciate that the best thing that they have going for them is the brand. So I would like them to be more aware of that.
The last question, Mario. When are you coming to Argentina? When are you planning to come?
Well, I hope soon. I hope to be invited to something. I have a team in Argentina. Garcia Media in Latin America is based in Buenos Aires. I have my very talented team there. In fact, the Art Director for my book, for this mobile book, is Paula Ripoll. She is my Senior Art Director in Buenos Aires and those guys in Buenos Aires have accompanied me from Asia to The Wall Street Journal to Paris Match in France, a very talented group, so I hope I have a reason to come. Buenos Aires is always in my top 5 favorite cities of the world. I hope to be invited for something there.
Let's hope so. Thank you very much for your time.
Thank you so much. Bye.